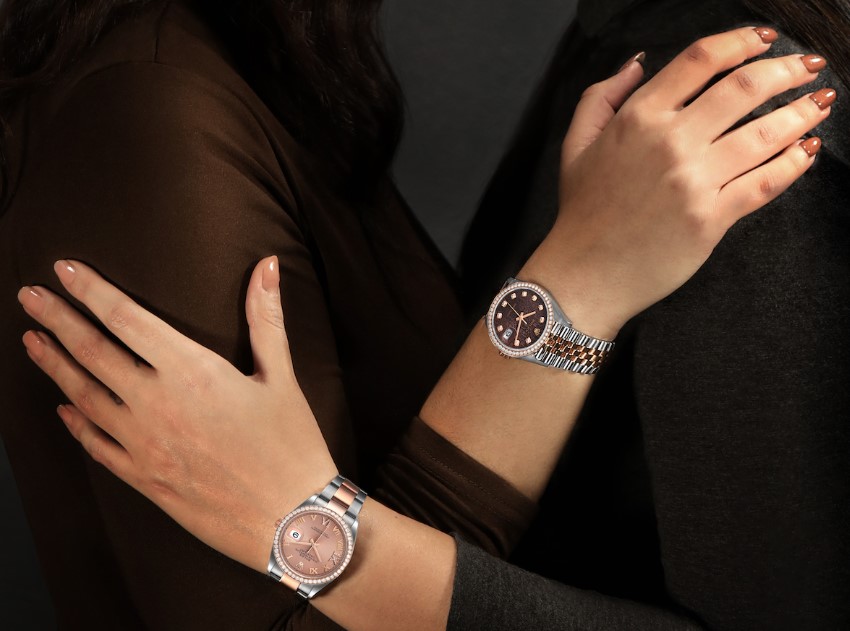 There is no doubting the grandeur and sophistication that Rolex brings to the table in the realm of luxury timepieces. The Swiss company is well-known worldwide for its enduring designs, accuracy, and craftsmanship.
Although women are always free to wear any Rolex timepiece whenever they like, the company has also painstakingly designed collections specifically for them. Finding the ideal Rolex watch for a woman might be challenging, given the variety available. These five watches for women will impress whether you're seeking a traditional design or something more contemporary.
Women's Rolex Datejust Midsize 31: Ideal for everyday wear
The first self-winding chronometer timepiece with a date display window was the Rolex Datejust, which made its debut in 1945. As one of Rolex's most well-known and famous lines, the Datejust rapidly came to represent luxury and sophistication.
The Ladies Datejust was first made in a 26mm size, but Rolex later changed it to suit modern tastes. The smallest size in the current collection is 28mm, followed by the midrange, 31mm. The Rolex Ladies Datejust Midsize is an excellent option for a feminine watch with more wrist presence.
A simple automatic movement, a date display setting, and a water-resistant case are just a few of the fantastic characteristics of the Ladies Rolex Datejust Midsize 31 line. The watch offers numerous design alternatives, letting ladies select the metal, dial color, strap, and movement that best suits their requirements. The Ladies Rolex Datejust Midsize 31 is the ideal watch for daily wear.
The range also includes bright alternatives, including pink, silver, champagne, blue, chocolate, eggplant, and olive green, and traditional dial colors like black, silver, and white.
Ladies Rolex Oyster Perpetual: Best for value
The Oyster watch, which is most famous for being the first waterproof wristwatch in history, inspired the Rolex Oyster Perpetual. The hermetically sealed case back and screw-down winding crown of the Rolex proprietary Oyster case allowed this breakthrough. This technology ensured the watch was resistant to dust, water, and other environmental aspects, making it perfect for outdoor activities and sports. 1950 saw the release of the first series from the collection, while 1964 saw the ladies-only Rolex Oyster Perpetual launch.
One aspect of the Ladies Rolex Oyster Perpetual series that helps to keep the price point affordable is the range's uncomplicated, timeless stainless-steel design. The Oyster Perpetual, a time-only model, is neither overly intricate nor embellished, making it simple to match almost any outfit. The watch is made from premium materials, has excellent functionality, and is dependable despite its simplicity. 
The Oyster Perpetual is a good choice if you're considering wearing only one watch for all occasions. The collection's dial colors include traditional hues in a sunray design like black, vivid blue, silver with gold markings, and pink.
Ladies Rolex President Datejust: ideal for formal settings
The renowned Day-Date model and the Rolex "Presidential" bracelet were unveiled in 1956. The semi-circular, three-piece link bracelet was made specifically for the Day Date. Still, Rolex decided to pair the classy bracelet with Lady-Datejust watches made of precious metal at some point. 
Similar to the Day-Date, only Lady Datejust models made of platinum and 18k yellow, white, or Everose gold have ever been spotted with the Presidential bracelet, lending these timepieces a feeling of exclusivity. A date display window, precise automatic movement, and a water-resistant case are just a few of the fantastic features of the Ladies Rolex President Datejust series.
The watch offers a variety of dial alternatives despite only being available in precious metals, including sunburst dials in silver, champagne, black, green, and blue. It also has elaborate designs like mother-of-pearl, pyramid, Jubilee, honeycomb, and several diamond dials. Women with a range of wrist sizes can wear the Ladies Rolex President Datejust series because it comes in various sizes, including 26mm, 28mm, and 31mm. Dials can also be embellished with rare minerals like meteorites or exotic materials, including valuable stones, to improve luxury.
Ladies Rolex Yacht-Master Midsize: best performance-wise
Since its 1992 debut, the Rolex Yacht-Master has established itself as one of the most recognizable and coveted luxury sports watches. The Yacht-Master has several features and functions that make it perfect for sailing and other water sports. It was created especially for people who enjoy the water and boating.
The Rolex Yacht-Master Midsize is the best watch for performance, thanks to various unique features. It contains a water-resistant case, an automated self-winding movement, and a rotating unidirectional bezel with a graduated scale to determine the time that has passed.
The Rolex Yacht-Master Midsize can endure depths of up to 100 meters and is built to resist the demands of boating and aquatic sports. The watch is also simple to read in low light thanks to its bright hands and markings and the unidirectional rotating bezel.
Various metals are available for the Rolex Yacht-Master Midsize, including two-tone steel and gold (Rolesor), 18k yellow gold, and stainless steel and platinum (Rolesium). Classic dial colors like white, blue, and slate grey are among the choices, as well as more opulent ones like mother-of-pearl, champagne, and platinum (as seen in the Rolesium model). 
The best unisex design is the Rolex Datejust 36.
The original Rolex Date debuted in 1945 in a 36mm Oyster casing. Since then, the line has been available in various sizes (26-31mm for women, 36-41mm for men). However, current trends have seen an increase in the number of women who wear typical men's sizes. It gives off an enormous appearance that screams fashion.
Thanks to several noteworthy features, the Rolex Datejust 36 is a dependable and adaptable timepiece. It boasts a water-resistant case, an automatic self-winding mechanism, and a window for the date display at the 3 o'clock position. The watch also has a sapphire crystal that resists scratches, keeping it appearing brand-new for years to come.
Thanks to its timeless style and adaptability, the Rolex Datejust 36 is the best unisex watch. This watch has several distinguishing Rolex characteristics, including the Oyster case, Jubilee and Oyster bands, and the date window with Cyclops lens at 3 o'clock. The watch is popular among people who value quality and craftsmanship due to its simple, classic style and dependable performance.
Related Posts